Club Fitting
Gapping Sessions
---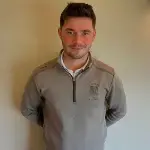 Do you know your club yardages?? If the answer is no then why not book in for a club gapping session with Charlie? With the GC3 launch monitor, Charlie will be able to give you accurate data and help you enhance your game ready for the season.
A gapping session typically takes 1 hour, after the gapping session you will receive a free card with your yardages on. Lofts can also be checked with Charlie's Loft and Lie machine, if these need adjusting this can also be done after the session. Don't guess. Measure.
Normally £45.00 but all members receive a £10.00 discount introduction offer.
You can see my shots here!